Copywriting in Czech and English? No problem
Our client Milmar is a Czech-based producer of nonwoven fabrics, plastic netting and products made of these materials. During summer 2022, we wrote copy for Milmar's new website — in Czech and in English. Read on to learn about our approach to copywriting in English.
Nonwovens fabrics and plastic netting are used in many industries — they're very popular in gardening (as strawberry fields covers for example), in health care (great fabric for disposable mats or coats) as well as in the automotive industry (as protective packaging for headlights). Milmar has mostly B2B clients all over the world.

All pages of Milmar's new website are our work. We worked page by page, starting with the Czech version, then translating it to English.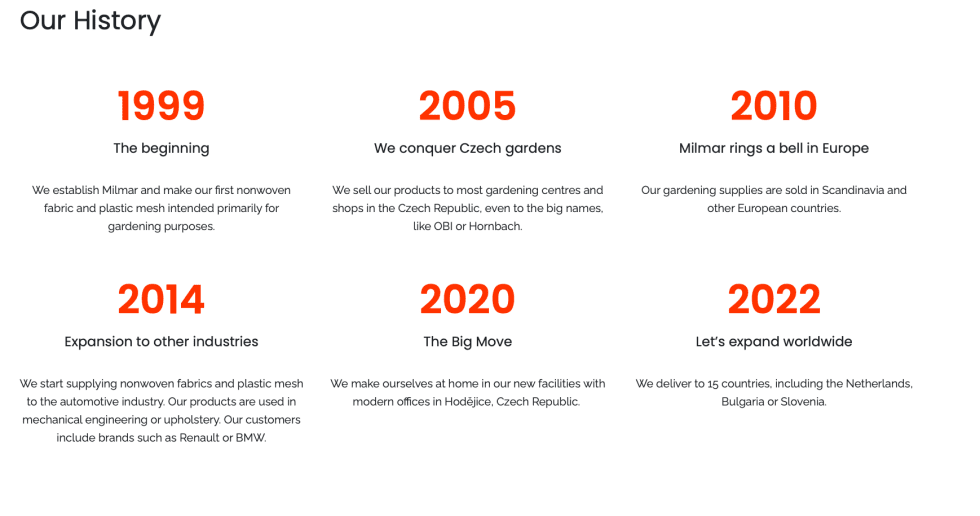 We wrote all pages of Milmar's new website.
Website Copywriting in Two Languages
Recently, my colleague Libor wrote a blogpost about our approach to website copywriting. In Czech only, so clicking the link is useless if you don't understand the language. Sorry! To make it up to you, I'll do my best to summarise Libor's thoughts: He explains when to start working with a copywriter and what are the benefits. Also recommends not to hesitate when finding your copywriter. In general, we can board on with an ongoing project at any phase. The sooner the better though.
Regardless of how many languages you write in, the base of the process for writing a website is always the same. With Milmar, Libor was the one in charge of the texts in Czech. I wrote in English. He gave me all the important info about the client and I peer-reviewed his Czech copy. When I sat down to write the English version, I wasn't reading the texts for the first time.
Milmar didn't need to brief another person. We're a team — Libor gave me all the details. With a hired translator, Milmar would've had to give them all the context and brief them first.
This brings us to the first benefit of bilingual copywriting — less work on the client's side.
You don't have to brief your copywriter and then repeat the info to your translator.
You review the texts once.
Nothing gets lost in translation — we share all the info about the project.
You get outputs in two languages.
We always include an English copywriter in a micro-team for a client who requires copywriting in English. It's me or Michaela, my colleague. We're in the team from the very start, getting to know the client and their product thoroughly.
Translator or Native Speaker?
Why not just get a translator? (To be clear here: I mean a living person. Not a robotic translator.) Because a translator is not a copywriter. In most cases.
Perfect academic English isn't enough to write good copy in English. You have to have at least a basic knowledge of marketing, you need to know about keywords and SEO and you should be able to localise your writing. You're not just translating. The original is not sacred — very often, tweaking the text takes it to the next level.

The same applies to native speakers. Believe it or not, neither Brits nor Americans are born with natural writing skills or marketing talents. And no one knows ALL THE WORDS. Do you know what warp and weft are? (Those who work in the textile industry, put your hands down. We know you know. Those who love Star Trek, don't get excited. This is not the kind of warp you have in mind.)
Fun Fact: Here's a demonstration that native speakers can struggle with a word, too. Milmar produces plastic netting and plastic mesh. These expressions are basically interchangeable (says Google as well as Marketing Miner — a useful keyword analysis tool). I used plastic netting in the sentence shown below as it made more sense in context. My proofreader (native English speaker) obviously spend some time pondering this expression and his indecisiveness left a mark in my gdoc:

Mesh instead of netting. Actually, netting sounds better. No, don't like that, use mesh. Mesh it is.
This particular revision certainly wasn't really helpful. An exception to the rule. In general, proofreading is a very useful tool for feedback and final spell checks.

That said, proofreading is not the only review our English texts go through. We swear by peer-review. We always make sure more people see the final outputs. A fresh outlook is extremely beneficial.
"Translating" from Czech to English
The best thing about bilingual copywriting is that you brief your copywriters just once. This was the process with Milmar:
We wrote a Czech version of a webpage.
Milmar reviewed it.
We worked in their feedback.
Milmar approved the final output.
We wrote the English version.
We peer-reviewed the English version.
A native speaker proofread it.
We wrote the website page by page. By the time Milmar received the final Czech version from us, it took us approximately a week to complete the English version as well.

But. This doesn't mean we just translated the pages. We put a lot of thought and research into writing the English version. Especially when it came to correct vocabulary and the right keywords.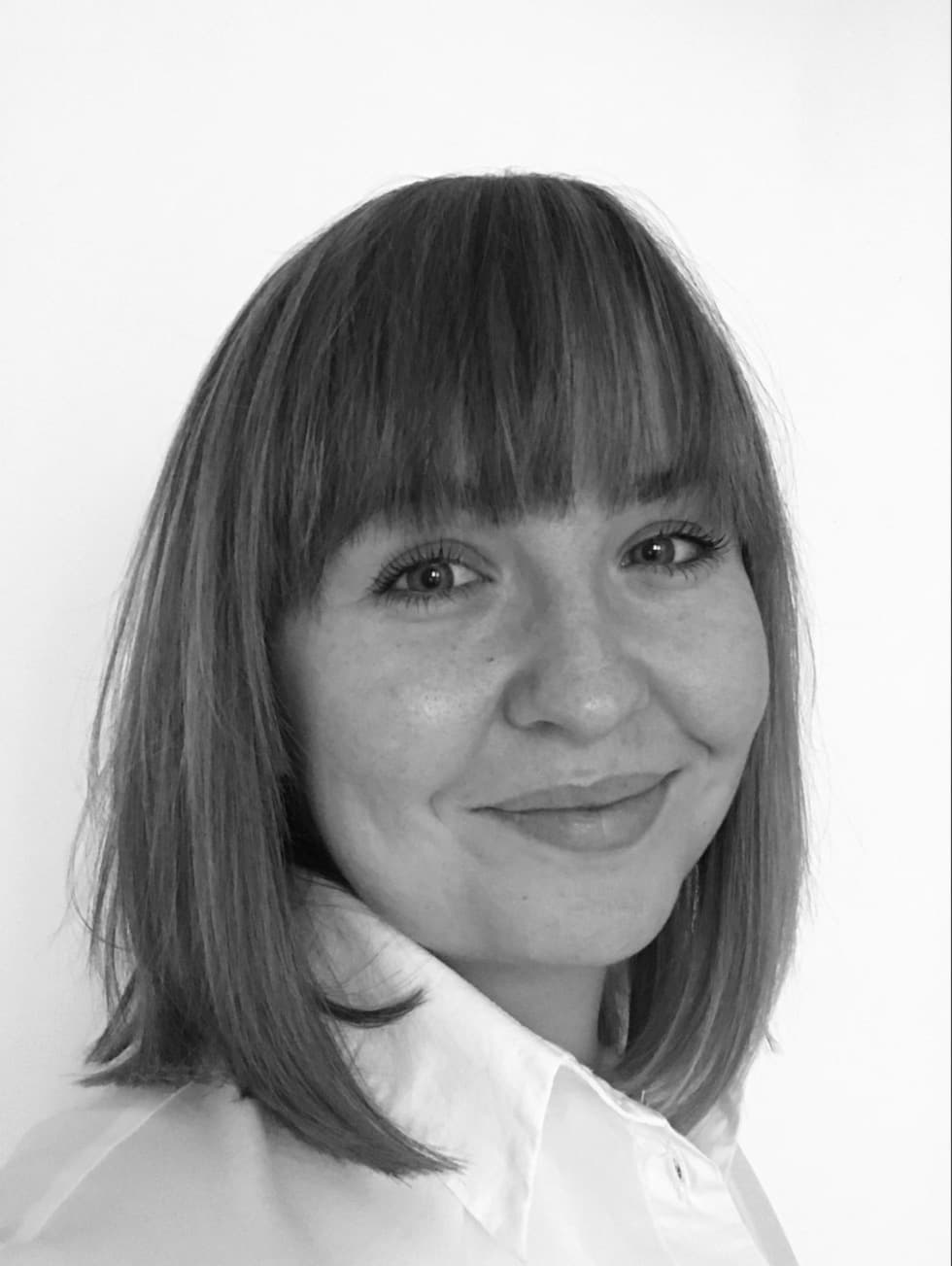 Outsourcing English copy saves time and that's precious. Without Obsahovka, we would have had to arrange the English translation ourselves. I'd have thought twice about such an investment — maybe even consider the position of content marketing in English in our marketing mix."
Milmar didn't have a keyword analysis at hand so we turned to Marketing Miner in search of the right keywords. That's where I found solace seeing that plastic netting and plastic mesh were pretty much the same thing SEO-wise. And I also noticed that people search even for plastic mesh netting. My proofreader would have avoided a headache had they looked into a keyword analysis tool when being torn between netting and mesh.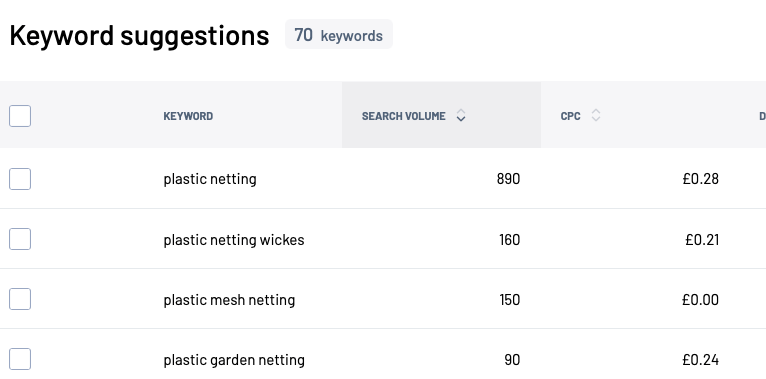 Marketing Miner lets you search for keywords in British or American English. We mostly stick to British English as most of our clients are from Europe.
It's OK when your copywriter doesn't know all the terms from your industry. You most likely know the vocabulary better — you're the expert! Our copywriting skills make texts flow and fun to read, that is our job. Looking up the right words is no problem — we're eager to learn your industry jargon.
Deviating from the Original
English and Czech differ a lot. Word order, sentence structure, idioms, collocations… they don't have much in common. English is more direct, more to the point, while Czech tends to explain things in length. On the other hand, English likes to exaggerate: If you describe something as great in Czech, it sounds interesting. In English, it needs to be exceptional, marvelous or extraordinary. Great is weak.
That's why we don't call ourselves translators here at Obsahova agentura. We respect the content of the Czech original. But we're not afraid to switch paragraphs for the sake of flow or to highlight something important for the English speaking audience. When we write short claims, we might chose an entirely different approach.
I've had client feedback about my English copy being too different from the original (not Milmar). In such case, I would highly recommend:
Trust your copywriter.
Don't be afraid to deviate from the original. It pays off.
Naturally, we do stick to the original in certain cases. When I wrote about manufacturing spunbond nonwovens, I translated the blogpost diligently. No one expected me to be creative there. But when I write a page about company history, there's room for adjustments, to make the text more appealing to the English speaking audience. I might skip awards and achievements that are known only in Czechia and no one knows them in the rest of Europe.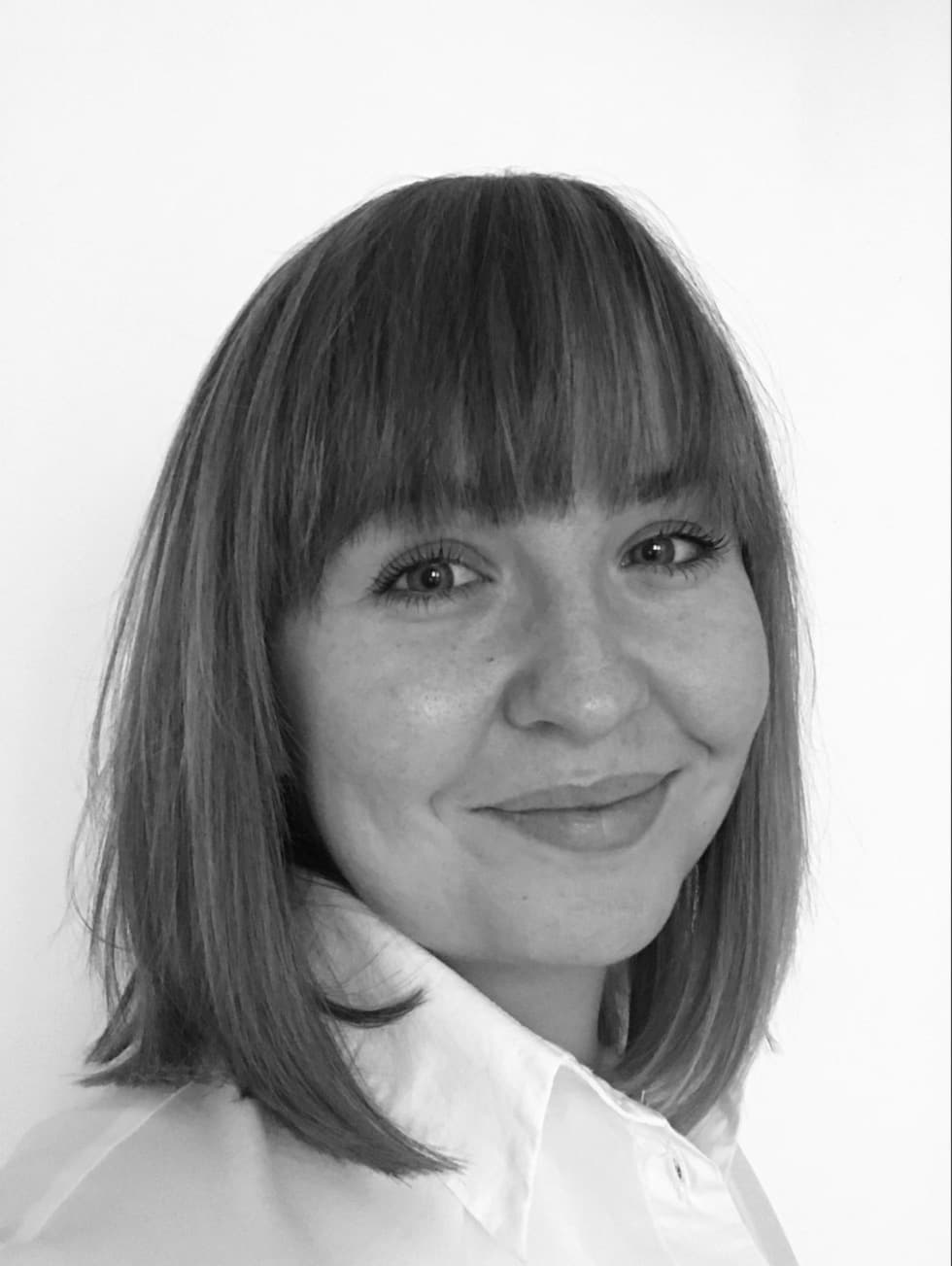 "I was a little worried about translation from Czech to English being too literal. So I was happy to learn the opposite once I got the first outputs. When we share our English content online, I know for sure that it's well written and contains relevant keywords."
Following Up with Content Writing
Milmar's website is out now. We continuously supply content for the company blog — timeless evergreen content. As evergreen as trees in your garden once you protect them with Milmar's tree trunk protectors.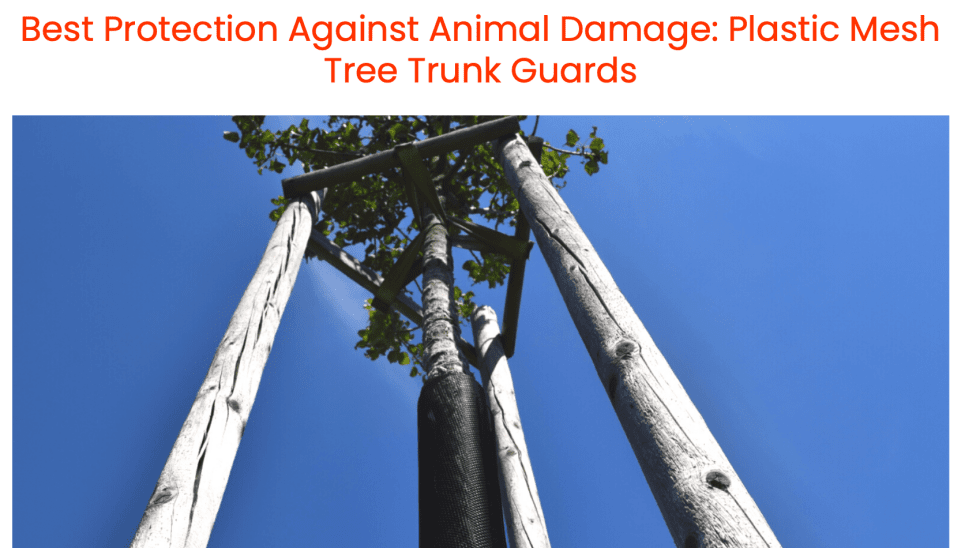 On tree trunk protectors made of nonwoven fabric.
Long-term cooperation always makes more sense in content writing. After we've been working with you for a while, we already know the vocabulary and don't need to research everything. We keep the tone of voice and know your products by heart.
Looking for a way to boost your English copy? Look no further. Tell us what you need.