UX writing
Web apps, chatbots, user manuals. We can join a project at any phase, collaborate with UX designers on a daily basis, write in both Czech and English. Our sharp copy makes your user experience a delight.
Our Approach to UX Writing
Exploring
Tell us what you do and what you want us to lend a hand with. Improving your microcopy? Writing texts for an app from scratch? Or, perhaps, do you need a UX writer to work with regularly?
Analysing
Once we work out all the essentials to kick off the collaboration, we put a micro-team together. Next, we get to know your product or service in-depth.
Next Steps
Sometimes, your microcopy only needs some polishing up; other times, we start afresh. We agree on the process of collaborating — the "what, where and when" — and get down to work.
Designing, Writing, Shortening
Designing, Writing, Shortening
Figma, Sketch, Adobe Xd. We work with various design software to create powerful microcopy. We'll be happy to set up regular online meetings to review your microcopy if that's what you need.
Cooperation
If your project requires it, we can almost become in-house members of your team. We meet with UX designers and we're always ready to discuss texts with your product owners, developers and other team members.
Final Edits
This is how it often works: Your UX designers test the copy. Then, based on the feedback, we make final edits and adjustments. Your copy must shine.
We're Team Players
A single button often takes hours to create. We're well aware. Researching, interviewing, and meeting with developers is what it takes. If you need us to, we cooperate super closely.
We don't provide complete UX designs. Working side by side with UX designers, it's our job to give your copy the winning edge. That includes setting the strategy, finding the tone of voice that fits your audience and picking just the right words.
Working with multiple design programmes such as Figma, Sketch, Axure, Xd and Miro is a second nature to us. If that's not what you create in, we embrace your preferred software.
Apart from our copy know-how, we provide the fresh perspective of an outsider. That often helps texts and empowers the team too.
We usually hand pick at least two copywriters to work on your project. They must have worked for a client from your industry and must have experience with UX writing.
As a client, you benefit from interchangeability of team members, uninterrupted production and content of consistently high quality.
Our copy is easy to follow and written with the end user in mind. No more getting lost in the first tutorial. No more apps that people only use once.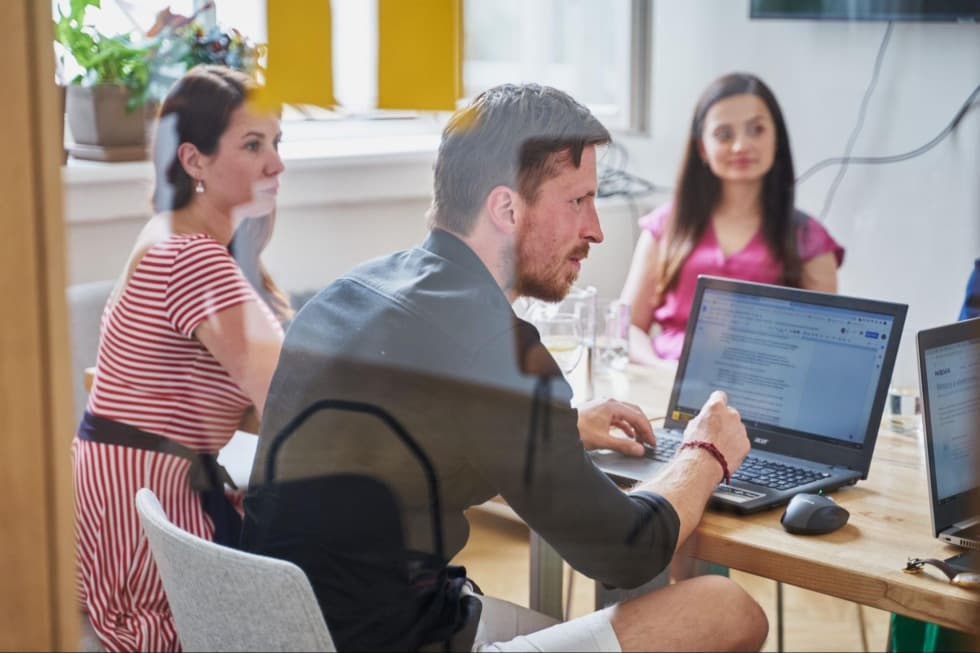 Tech Industry? We like that!
SaaS, e-commerce, intercoms, but also books and fashion. We're not picky about what we write about. That said, we like it tricky. Here's what we have worked on:
Talking Chatbot
We teamed up with developers from Coworkers.ai to teach a chatbot to talk — on behalf of the most original hotel in Czechia. We set its tone of voice, created all dialogue schemes, and tested everything.
Microcopy Peer Review
We revised microcopy of the cloud platform for 2N Telekomunikace, a world leader in intercoms. All in English.
How Much Does It Cost?
The price depends on the scope of your project. Our rate is 1,500 CZK per hour (without VAT).
Take the first step – we'll guide you through the rest